Stadenvidhavet,What Brands Should Do During COVID
Your inboxes and feeds are full of COVID-19 messaging, corporate stances, and endless updates on the topic of pandemic. This might be unprecedented for our modern culture but it's here and it's happening. As a marketing agency, we feel both compelled and dutiful to help our clients, vendors, teams, and partners navigate what it means for business and humanity alike. Here's a list we compiled of what to do (and what not to do) as the world watches and waits.
1. Assess Your Staff & Manage Perceptions
Regardless of industry, your people and their well-being are the highest priority. If you haven't yet, host a meeting session to gather everyone in order to disseminate information in a unified manner; oftentimes the game of secondhand knowledge or telephone makes the subject even harder to communicate effectively. Get everyone together, even if remotely, get on the same page, and be empathetic. As people start to acknowledge the impact COVID-19 has on their families, it can be hard to think of anything other than the day-to-day of managing change in routine and priority.
Thinking of careers, obligations, and business to-do's will come in second, maybe even a far off second as people adjust. 
While culture-focused events usually have a more enjoyable sheen to them than disease outbreak, it's still related to culture. Listening to your team and customers in order to understand how they're coping and how they're processing change (and processing it daily) will help you assess perceptions in order to develop a plan to move forward. Consider a platform where employees can ask questions/share concerns and keep others apprised of changing conditions or items of priority.
At Leighton Interactive, we added an extra agenda item to our weekly M3 — Monday Morning Meeting — and held a town hall-type meeting to assess critical needs of clients, roadblocks to accomplishing work remotely, and how to support each other through the unknown criteria of workplace stressors. 
2. Determine Immediate Business Needs
If your workforce model is impacted by the virus consider how that impacts your customer. If your business model supports foot traffic, consider how it's affected during the hunker down/quarantine/social distancing phase. Lack of traffic in person correlates to a lack of sales. How can you counter or offset the potential loss of business? Get creative and think of the added ways you can add value, comfort, and clarity for your buyers and customers.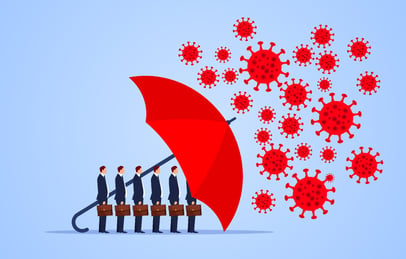 If your business lives in the e-commerce space, you might have a potential leg up simply due to the increase of web use during the downtime. Now, that doesn't mean your customers will necessarily be looking to shop or add services or products to their lineup; what it means is, unfortunately, the Internet perhaps has the most captive online audience in … a very long time.
Take advantage of the increase in users to craft compelling messages and refine your online presence to be one of authority, compassion, longevity, and the most important, humanity. 
3. Don't Go Radio Silent
Doing absolutely nothing is still something, and it's the wrong something to be doing during the COVID-19 crisis. Again, your brand is a beacon for many people and by now, those people are expecting you to offer direction on how to utilize and find your brand during a difficult period in business. Are you open? Are your hours of operation and support altered? Take stock of any initiatives you had set to launch in the next 30 days. Are any of those now insensitive (or potentially perceived as insensitive) or suddenly not a priority? 
So much of what we do in the marketing world is building and launching and automating the entire process. Don't forget to check all channels and teams for what might be releasing on your brand's behalf and give pause to anything that suddenly doesn't seem right. Don't encourage coupons if your quantities are limited or gone; or if your production has slowed or come to a halt due to the demands of regulation or staffing. Don't encourage open houses or events or culture-based initiatives until you know the risk or threats have been lifted. 
4. Don't be Afraid to Bring Levity 
Social media and news outlets are rapidly becoming a cesspool; for good and bad content alike. There's a lot of fear, panic, and assumptions being made every single second. Offering levity during this time is highly encouraged and just good business acumen. What that doesn't mean is insensitivity or crassness (and there has been plenty of that) … but think about your users and audience and what that group of people needs to see amidst the darkness and unknown.
Sharing stories of how and where to help in your community is helpful; undoubtedly the agencies in your area collaborating on how to serve people — those experiencing shortages in supplies, childcare, access to meals, transportation, etc. everything has been impacted. Your brand position on how to affect change will serve you well beyond the crisis and encourage modeling behavior from others around you. 
5. Over Communicate 
Technology has amplified the ways humans are able to communicate when distance becomes reality. The concept of remote workforce is something that will be on nearly everyone's radar currently. Enforcing the best ways to communicate from a business standpoint should be a company mandate you share with your team, partners, vendors, and contractors ASAP. Anyone who will help or continue to help you run your business should know what is expected of them during this time.
Remember, communicating indirectly comes with its own set of circumstances and requires a little more effort and forethought in practice. There's no such thing as too much communication during stressful, disruptive times and your brand should continue to manage it accordingly and without fail. 
6. Recognize Opportunity 
As an agency, we brainstormed ways we could offer additional value or non-traditional or "out of scope" strategy to our own brand as well as our clients'. We recognize the necessity for creativity and breaking some parameters. With the tools necessary at our disposal, we can create some pretty compelling content with ease. Webinar series? Absolutely. Facebook Live? Of course. How-to videos and live demos? Yes. Live Q&A or FAQ sessions with customers? What will delight your customers — what add-ons or additional access to resources will bridge the gap in service or support if that arm of your business is affected?
Think of how you can engage with users and think of all the ideas your team has brainstormed or wishlisted in the past … now just might be the perfect time to execute some of those ideas. 
We're Here For You at Leighton Interactive 
There are a lot of unknowns in the world right now, and we're trying to be nimble and a beacon of stability at the same time. Dan Soldner, our president, keeps reminding us this too shall pass and there's comfort in hearing that from leadership. We'll continue to implore each other to ask for help, ask how to help, and stay the (altered) course the best we can.
From all of us at Leighton Interactive, we're behind you and we support you, more than ever.
免责声明:非本网注明原创的信息,皆为程序自动获取自互联网,目的在于传递更多信息,并不代表本网赞同其观点和对其真实性负责;如此页面有侵犯到您的权益,请给站长发送邮件,并提供相关证明(版权证明、身份证正反面、侵权链接),站长将在收到邮件24小时内删除。